Feature of PET strapping seal clips machine for 5/8"
What is the feature of PET clip machine?
(1) Serrated teeth inside of the seal clip for better gripping power over pet straps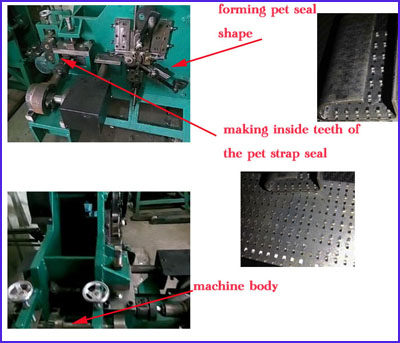 Serrated Seal for Plastic (PET) Strap
Serrated Seal for Plastic Strap, stops strap from slipping under tension
The serrated pattern stops PET strap from slipping under tension.
Serrated seals are used with polyester strap.
But how to stop it from slipping under pressure?
By the aggressive serrated teeth at inner side of the clip.
We have developed a special tooling for forming the teeth
at inner side of the clip which look like normal but it is made
from Japanese High Speed Tooling Steel SKD-2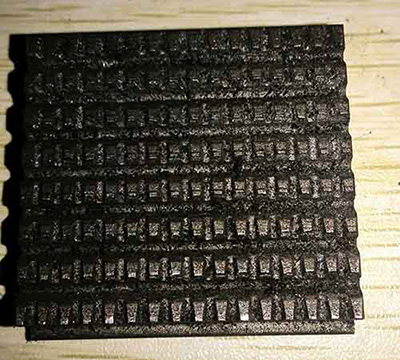 which we will supply you with two sets for your future use,
because it is the most important spare parts for the machine.
Apart from this factor of strong serrated tooth, our machine
(2) Selection high tensile steel material for the powerful clamping of straps
also make nice PET strapping clip with 1 mm thickness of
high quality steel plate which yield stregnth is > 340 Mpa.
(3) One machine can produce three sizes, 1/2, 5/8', and 3/4' PET seal clips
it can produce 5/8" pet strapping seal
it can produce 1/2" pet strapping seal
it can produce 3/4" pet strapping seal
in same machine
by changing the molds each other
more at the online after service video clips >>>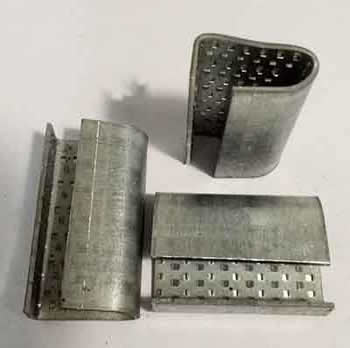 (4) Quaity guarantee
Our machine has passed the CE certificate inspection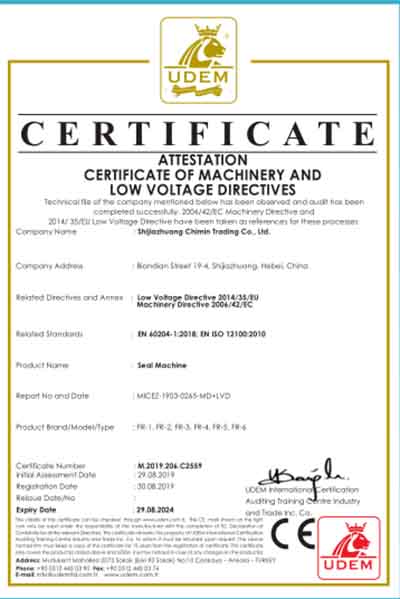 +++++++++++++++++++++++++++++++++++++++++++++++
Please add our whatsapp and talk more about it there:
Whatsaa:0086-18621323471
Speed:90 pieces/minute
material: steel coil
Specification: PET strapping seal specification
Video: pet strapping seal video
Power: 1.1 KW
Machine weight: 550 KG
Machine size: 1.2 M2
More videos, please click for
[13 mm pet clip machine (1/2' )],
[16 mm PET clip machine ( 5/8')],
and
[19 mm PET clip machine (3/4')]".
PET strap seal machine working in Guatemala
Serration on different thickness of steel plate
Get a quotation now by writing few words below!